Building a Modern Brand: How Branded Merchandise Has Become the Ultimate Hype Builder
SWAG used to stand for 'stuff we all get', and despite social media allowing greater access and exposure to brands, many current tactics for distributing and promoting branded merchandise cater to exclusivity and elitism. A more modern interpretation of the term might be 'stuff barely anybody gets'.
This might seem counter intuitive from a brand building perspective…don't I want as many people as possible to buy my brand's merchandise?
The current answer to that question seems to be that having the 'right' people buy your merchandise is the more lucrative approach.
Let's take a look at how branded merchandise is being utilized by organizations to drive awareness, customer engagement and overall brand notoriety in innovative ways, and how your brand can do the same.
Ex-cool-sivity – Sometimes Less is More
Building hype through limited and timed releases of products is hardly a new strategy, brands like Apple and Jordan have had that strategy mastered for decades.
But as many modern brands begin their development in a digital space and without a retail presence, they lack the ability to run physical launch campaigns and fill city blocks with diehard, sleep deprived brand loyalists.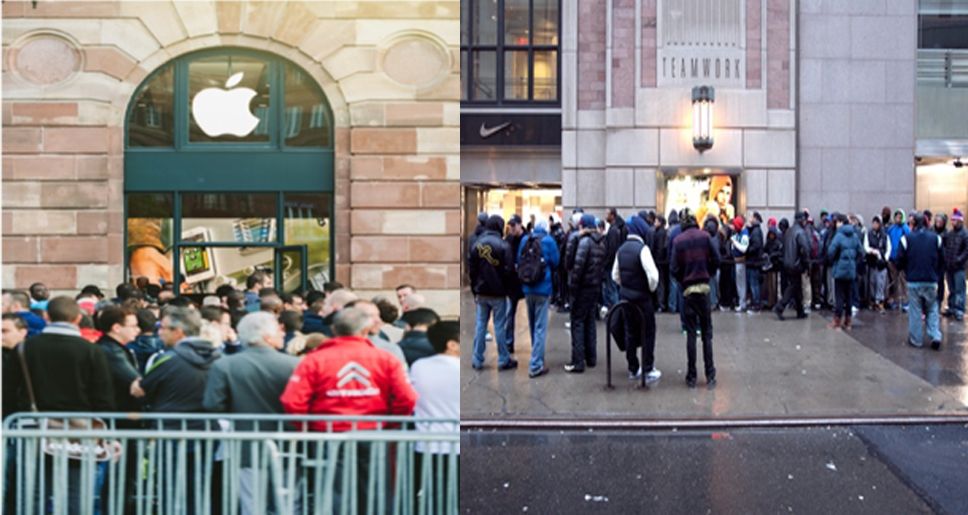 Flash Retailing & Capitalizing on FOMO
One popular alternative being utilized by many lifestyle brands is the 'Pop-Up Shop', also referred to as flash retailing.
Record labels and fashion brands seem to have perfected this approach more than others, and have been using it extensively for the past few years.
This concept of "here today, gone tomorrow" as put by Alexandra Sheehan of Shopify.com, illustrates the idea that people want to not only be the first to get a product, but also be one of a select few who even have the opportunity to own it.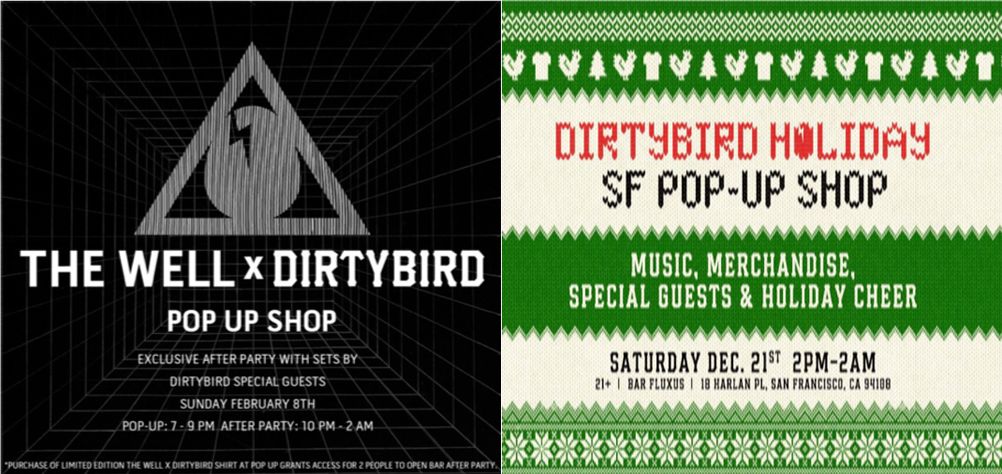 Dirtybird Records, the most popular House/Techno record label in California is one example of a brand that utilizes the pop-up shop to great success. These are always highly anticipated events by their fanbase and generate massive amounts of hype around their brand. As a record label the excitement around the merchandise also provides opportunities to further promote their artists by making the pop-up shop an experiential event featuring live music, art, and food.
Pop-up shops are also an effective method for testing out new brand partnerships. Producing a limited run of products and revealing them at a limited-time event like a pop-up shop can help gauge how interested your customer base would be in the partnership, and whether the partnership is worth pursuing on a more long-term scale.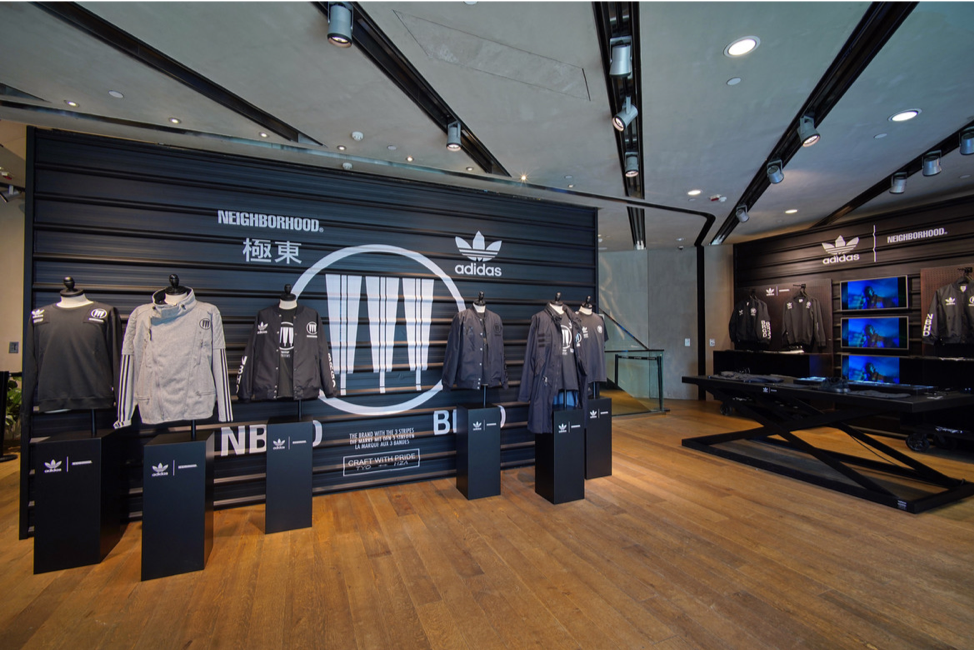 The Bird is the Word – Branded Merchandise Drops on Twitter
Twitter has steadily grown into the primary platform for direct communication between consumers and brands. Many brands directly interact with their followers in comment threads, resolve customer issues, and host polls/giveaways all from their brand's main account.
It has also become one of the main ways brands reveal new product/merchandise and generate initial hype around releases.
100 Thieves, a wildly popular eSports organization, is a prime example of a company leveraging branded merchandise to create an all-encompassing modern brand.
Twitter has become their primary means for communicating with their fans, and all branded merchandise announcements are posted there first.
The nature of engagement on Twitter allows for personal, in-the-moment interactions and conversations with your followers. This dynamic provides great opportunities to tease upcoming releases and generate hype among your fans.
Branded Merchandise Releases & eCommerce – Preparing Your Pipeline
These timed releases garner massive levels of engagement and have often resulted in such an influx of traffic that many brand's eCommerce sites struggle to handle the load. Even the above mentioned 100 Thieves eCommerce shop has crashed or had serious technical difficulties on multiple collection launches.
Large brands with dedicated followings are unlikely to suffer any significant setbacks from a poor performing eCommerce site, as the sheer number of fans scrambling to buy their branded merchandise will result in full sellouts regardless.
However, if you're an up and coming brand, ensuring that your site and eCommerce pipeline is prepared to handle the traffic influx that a limited/timed merchandise drop has the possibility to bring is a critical component in ensuring the success of a branded merchandise campaign.
Unsure if your site is ready to handle a shopping surge? Consider running load tests on your site prior to launching a branded merchandise drop.
Here are 7 Useful Tips for Load Testing an E-Commerce Site from Loadimpact.com
CASE STUDY:
How MAGNETIC Brought a Small Town's Brand to New Heights
Producing Branded Merchandise – What, Why & How
Now that we've gone over some popular methods for releasing branded merchandise, let's talk about the merchandise itself!
So... what types of branded merchandise should you release?
The short answer... it's up to you!
However, understanding your customer base and overall industry culture can help you identify any possible unique opportunities to get your brand out there.
The key here is to be unique, produce merchandise that conveys the personality and style of your brand, and will make your customers want to show it off and share with their friends.
For the sake of your product brainstorming, here are the 8 most common branded promotional items according to Delta Marketing Group.
Drinkware
Tote Bags
Writing Instruments
USB Drives
Desk Accessories
Health Items
Calendars
Power Banks
While these certainly aren't the most exciting or creative options, one thing they all have in common is REUSABILITY.
Products which will be consistently used by their recipients help reinforce your brand name/image and allow you to maintain top-of-mind awareness with your customers.
Clothing with a Conscience – Boosting CSR with Eco-friendly Branded Merchandise
One way to set your branded merchandise apart is to take an environmentally focused approach to your production method. Not only does this serve a great cause but it also makes evident to your target market that you are a forward-thinking brand with a modern and active worldview.
Specifically when developing a production method for branded clothing, consider implementing the following:
How do you make branded merchandise that your customers will actually want to wear and show off?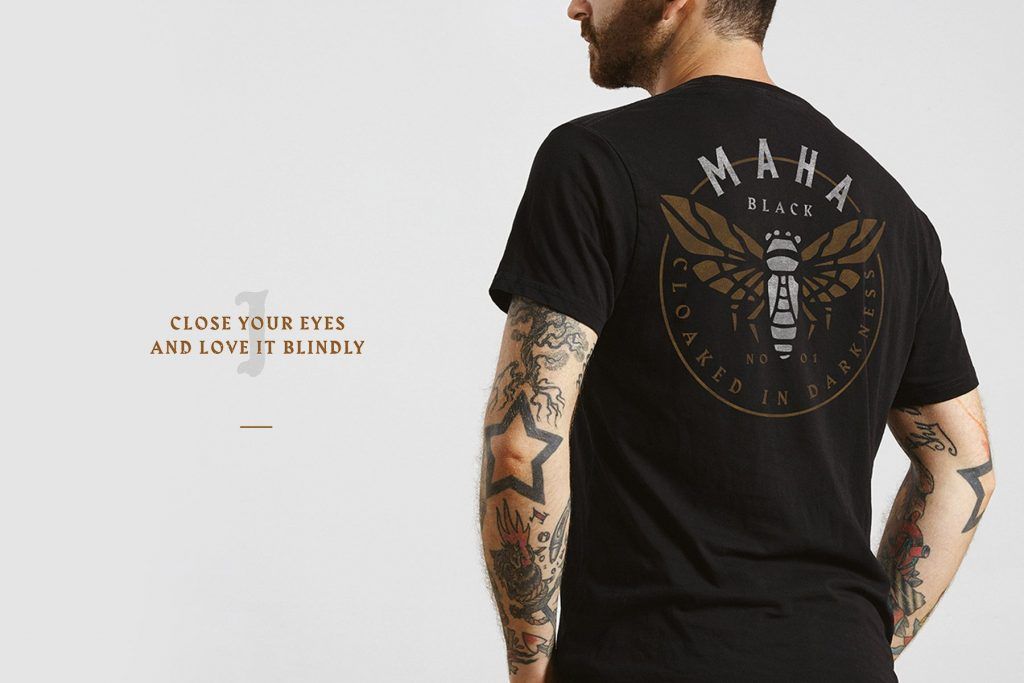 Organizations spend significant amounts of time and capital on developing their brand image through the creation of logos, color pallets, and typography. These visual brand components combined together with corporate mission/values and audience definition are the key aspects of a Brand Style Guide.
Once you have those aspects solidified, how do you properly and dynamically represent them in a tangible form?
To answer that question, I sat down with Magnetic's Associate Art Director Mani Salazar to get his thoughts on how to produce branded merchandise that your customers will never want to take off, and some pitfalls to avoid along the way.
Q1: What are some key design considerations to weigh as a brand before beginning to produce branded merchandise?
"Know who you are, what differentiates you as a brand, and where you want to be in the long run. I think answering those three questions really just helps to inform the type of merch you offer, the graphics you create, and the people you want to appeal to." – MS
Q2: How do you balance the use of logo and text on merchandise? Are there times where you should only use a logo, only use text?
"I think that's entirely a personal decision. Some of the most popular brands showcase their logo loud and proud at all times; whereas others reserve it for more subtle embellishments on sleeves, upper back prints, tags – that kind of thing. Personally, I like to sign off designs with discrete logo positionings. Where after you already like a shirt, you go, "Oh yeah, that's them for sure, that makes sense!" – MS
Q3: How can you best convey a brand's identity and core values in the design of branded merchandise?
"Aesthetics. What you choose to show or not show. Tone of voice matters, too. That's not only what your merch says, but also how it reads to the world around it. Of course, that ties in with what colors you use and the size of your graphics. Ironically, some of the most upscale brands in the world are using the smallest logos or prints. Maybe that's a statement in and of itself." – MS
Case Study:
Creating a Branded Destination For Artists & Fans to Explore
Q4: What are some critical design errors that you've seen brands make with their merchandise?
"Frequently changing up aesthetics to appease what's trending rather than staying true to brand is a fairly prevalent misstep. There's a fine line between keeping your finger on the pulse and trying to hit on every trend every single time. Not only is that extremely difficult to maintain, it comes across as a frantic attempt to stay popular and relevant. Ultimately, I just think it takes the fun out of making something that you love and turns it into something you're just trying to please everyone with." – MS
Q5:What types of merchandise do you think provide that greatest opportunity for creative expression and will create desire within a fanbase?
"I don't think it's necessarily the type of merchandise that matters, so much as how YOU make it special. For example, I used to not care about socks, until Stance started putting these awesome colors schemes on ridiculously comfortable socks. Now I can't get enough of them." – MS
Q6: Are there any brands you follow that you feel have done an exceptional job of creating and promoting branded merchandise? What do you think made their approach so successful?
"Johnny Cupcakes, P&Co., Roark – I think they all have a story to tell and an established brand identity. Understanding themselves to that degree affords them the opportunity to really push their designs while maintaining this universal brand aesthetic and fan base that follow along no matter what." – MS
Q7: For a brand that has never created their own branded merchandise before, do you have any suggestions on how to get started?
"Just to have fun with it. Don't worry about trying to stack up to this person or that company. Enjoy creating your own expression of brand and stay true to it. No one nails it right off the bat. No one sells out of shirts right away. But be passionate about what you do and people will gravitate to your stuff." – MS
So there you have it!
While producing branded merchandise for the first time might seem like a daunting task, the key is to have fun with it and understand who you are as a brand.
Okay Great, Thanks for the Info… Now What?
If this article has helped convince you that producing branded merch is an exciting and potentially highly lucrative method for building brand awareness, you may want to consider finding a partner to help you get started!
Luckily for you, here at Magnetic we help brands of all shapes and sizes develop their visual identity through both physical and digital mediums.