Mountain Home, AR
Small Town Branding Making Large Scale Impact
How MAGNETIC Brought a Small Town's Brand to New Heights
---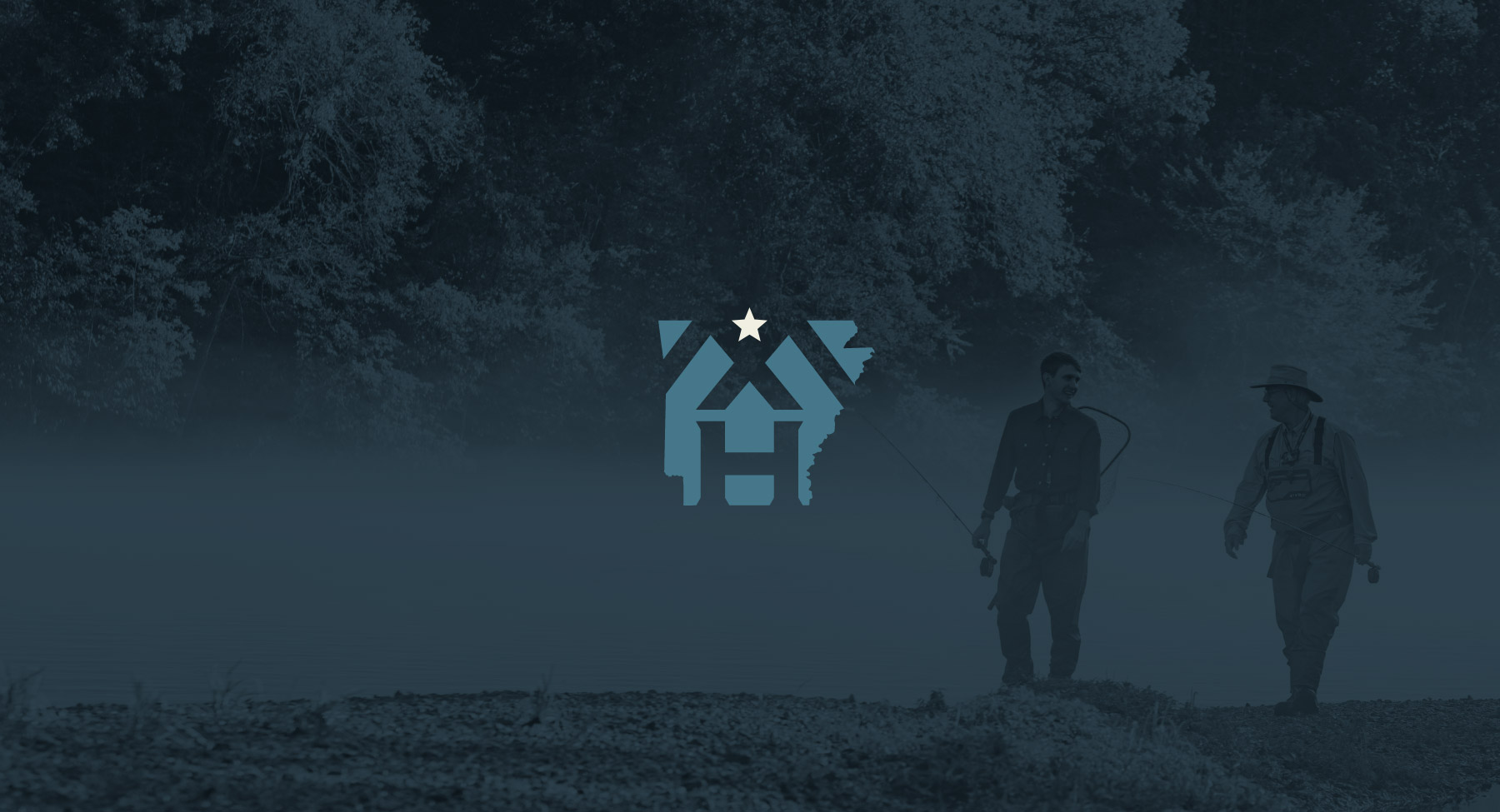 How MAGNETIC Brought a Small Town's Brand to New Heights
Most towns are lucky to have a quirk or two that make them truly unique; but in Mountain Home, Arkansas, special runs wild.
The North Arkansas city selected MAGNETIC from a number of competing agencies to develop a comprehensive brand rollout that would aim to align the community, attract new residents, and promote the city as a bona fide travel destination.
The Small Town Rebranding Included:
Brand Discovery and Research

Brand Messaging Strategy

Brand Building

Collateral Design and Content
Discovering Mountain Home
Brand Discovery: Site Visit for Workshops, and Interviews
Before diving head first into the Brand Discovery Phase, MAGNETIC felt it was important to experience all that Mountain Home had to offer firsthand. So off we flew to Northern Arkansas – to take in the charm, the world-class trout fishing, and of course, the warm, southern hospitality.
After a series of brand workshops, excursions, and interviews, the team confirmed what it already suspected: Mountain Home was a diamond in the rough. Just waiting to be mined, polished, and made known to the world.
Home, Mountain Home
The Mountain Home Story. Creating the Brand Persona and Messaging Strategy
After defining a set of unique customer personas, Magnetic developed messaging strategies that spoke to the intangible home-away-from-home nature of Mountain Home, Arkansas. Focusing on Retirees, Young Families, Outdoor Enthusiasts, and Career Seekers specifically, our writing team sought to tell a three-word story of what life in Mountain Home could be like. This is where the city's new tagline was born.
Home, Mountain Home.
Laying a Creative Foundation
Creating the Visual Identity and Design System
Mountain Home was in dire need of a new visual identity. Its aesthetic was outdated and disjointed from the city's core values and aspirations.
With equity already built in the current small town brand, MAGNETIC was tasked with striking a balance, creating a design system that paid homage to the city's heritage while propelling the Mountain Home brand into an exciting new era.
Our design team was able work through creating a design system of marks and icons for the city chamber, tourism, and the extended region as a whole.
Keeping the Design System Flexible for Real-World Application
The design team at MAGNETIC created these marks by hand to be inspired by the landscape and the geographical location of Mountain Home. Just as importantly, the design system would need to adapt easily to a variety of different applications, from signage, to apparel, and everything in between.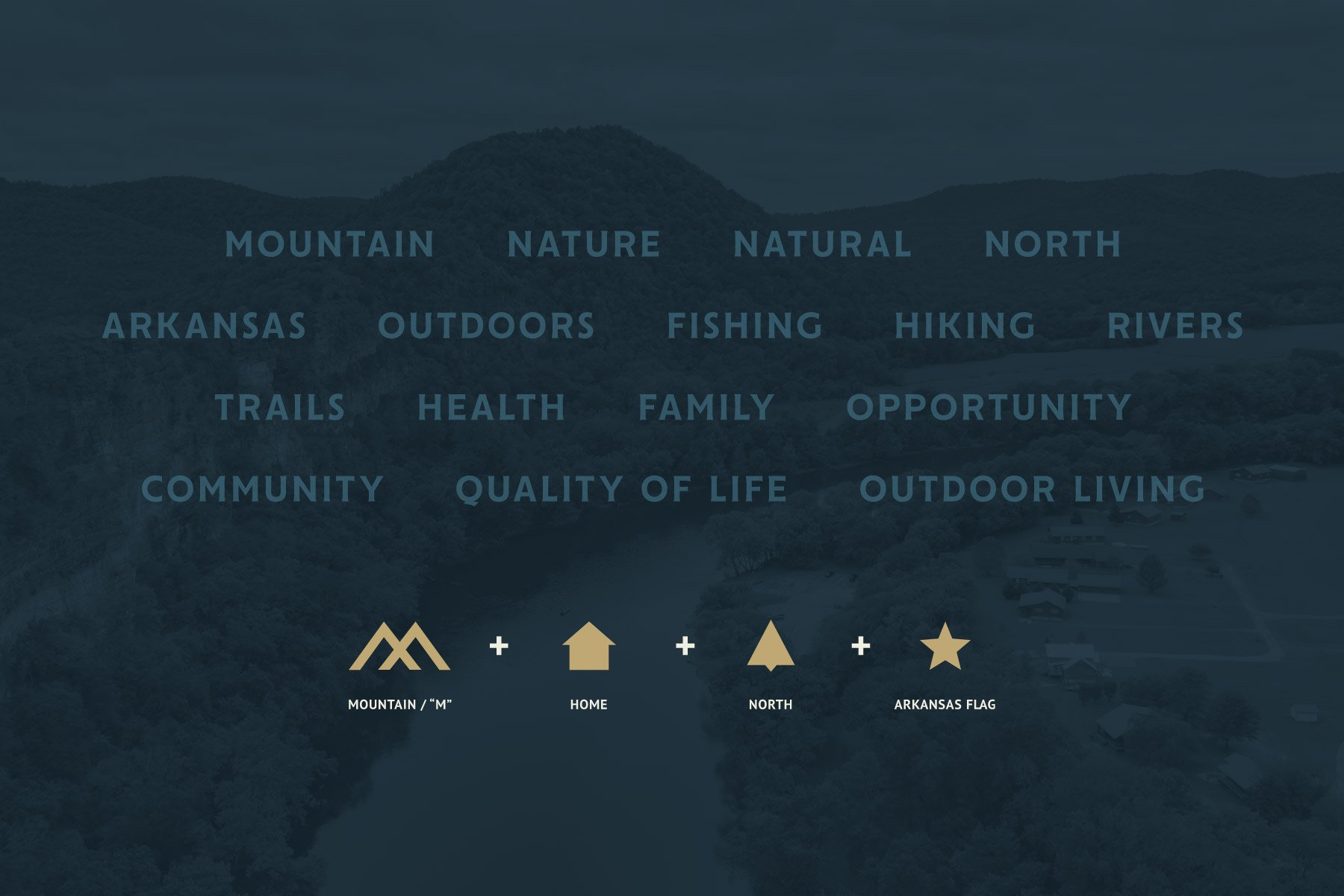 Brand Design Language for Mountain Home, Arkasas
Creating a Timeless Logo Mark for Mountain Home, Arkansas
Our team developed a mark which, at first glance, reads as 'MH' but also creates the shape of a home in the negative space. This iteration also features a star which represents the city's geographical location within Arkansas.
Adaptability in a Design System
Revealing the Logo and New Visual Identity
To illustrate the adaptability of this design system, our team worked with key members of Mountain Home's Chamber of Commerce to identify various use case scenarios for the logo mark application.
This was one of MAGNETIC's most successful logo reveals in its 15 years. Our team traveled back to Arkansas to present and were welcomed by not only the client, but 300+ residents who couldn't wait to see their hometown's new visual identity.
From scope to signoff, this rebrand was a privilege to be a part of.
Bringing the Brand to Life through Collateral Design
Energized by the successful brand reveal, MAGNETIC got to work on a number of collateral design pieces the city of Mountain Home required, including corporate stationery, editorial, travel guides and brochures, apparel, and even web layouts.
A Premier Production for a Premier Destination
Destination Photography, Video Production and Content Creation
With our design system set, it was time to get to work on content creation. In just a weeklong video production, our team captured tons of photo and video content that the city could leverage across all its communication channels.
Creating the Stories Mountain Home, AR
Delivering a Brand Video with a Sense of Small Town Pride
MAGNETIC delivered a narrative video that would function as a recruiting tool for the city and serve as a unifying piece for its current residents.
The Mountain Home Brand Video was the cherry on top of a wildly successful project. It brought applause, tears, and to us, a great sense of pride.
Mountain Home Brand Video

:15 Social Media Video Cut

:15 Fishing Social Media Cut
Small Business Social Media Highlight
More Mountain Homes to Climb
Continuing the Brand Journey with this Beautiful Small Town
Mountain Home was a happy client. So happy, in fact, that it referred MAGNETIC to one of the major healthcare networks in Northern Arkansas.
So while our work with the City of Mountain Home has come to an end for the time being, we're so stoked to have the opportunity to continue working in and for a town that we've come to genuinely consider our second home.