A new approach to our digital illustration process for hand lettered design.
There's something beautiful about merging traditional and digital design. Making something by hand requires a certain level of humanity, and in the branding world, instilling human elements into your work is the name of the game.
Check out how one of our graphic designers, Mani Salazar, whipped up the hand lettered illustration of our Holiday card in the video below. You can also read on to learn about his digital illustration process, as told by Mani himself.
Digital Illustration Process in Procreate on iPad Pro
"This was actually the first time I completely abandoned my traditional method of hand lettering and went all in on the iPad Pro.
Normally, I would start by putting a pencil to paper and sketching out thumbnails. After getting a good sketch down, I would then ink right over the line work or throw down some tracing paper and ink on top of that. Then, I'd scan in the artwork a handful of times before finally digitizing it in either Photoshop or Illustrator.
Related Reading:
Hand Lettering Tutorial – Transform Your Design from Pencil to Vector
This time, however, my process for this digital illustration was to take full advantage of layers in Procreate and utilize the ability to sketch digitally right in the app. I started by going through a number of potential layouts until I felt strong about this one in particular.
What I love about working solely on the iPad is the freedom it gives me to explore and create without the fear of "messing it up.
The Freedom of Exploration in Digital Illustration
What I love about digital illustration is the freedom it gives me to explore and create without the fear of "messing it up."
I hate leaving lines behind after using an eraser, so it's super satisfying to just hit undo (or use the two finger tap shortcut), rather than having to continuously erase as I'm going.
Finalizing the Digital Sketch in Photoshop
Once I finished the initial sketch, all I had to do, was lower the opacity of the sketch layer, add a new layer, and get going on inking the final version.
Even though you can get it feeling final on the iPad alone, I still decided to take it into Photoshop to finish up the coloring and add a bit of texture.
Having the ability to export a file as a PSD and import PSDs that maintain layers and blending modes is an absolute game changer.
I'm stoked on how this card came out. I really wanted to design something that embodied the company and our vision for the new year.
The Finished Product - A Hand Lettered Digital Illustration for our Holiday Card
At Magnetic Creative, our True North mantra resonates with me because it represents everything I'm passionate about as an individual—curiosity for discovering something new, bravery for the pursuit, love for adventure, authenticity for staying grounded—that's what I wanted to convey.
With the True North Pole front and center, this piece's energy explodes from the inside out. When you think about it, that's more or less the heart of what we do here."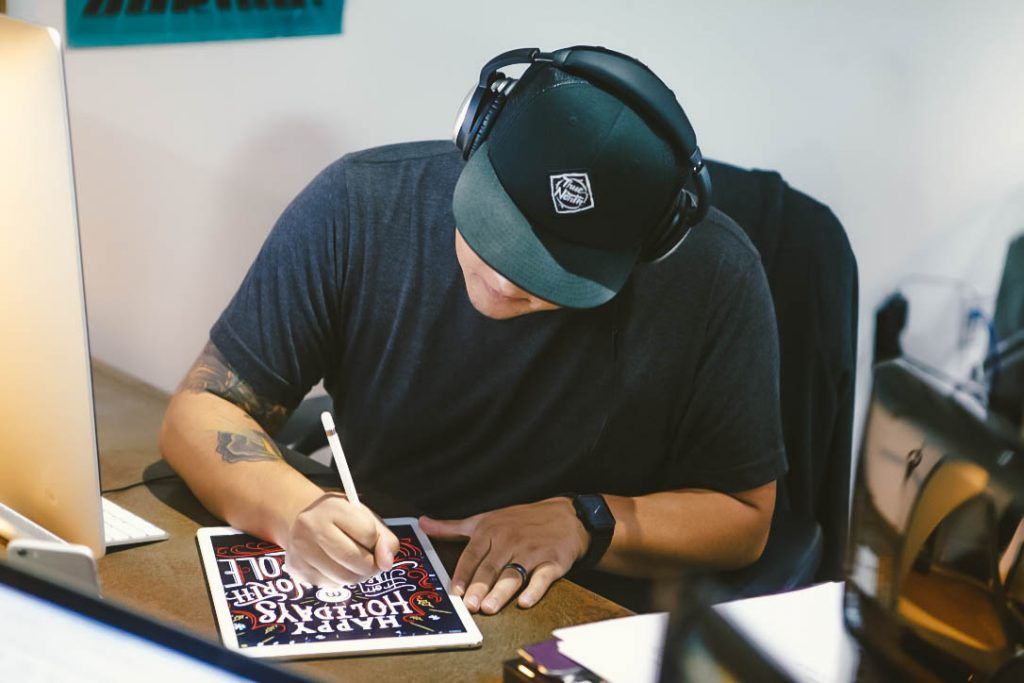 Interested in More Hand Lettering Examples?
Our graphic designers love taking time to document their process for hand lettering and other design techniques.
Check out some other hand lettering tutorials and design tips below.
Hand Lettering Tutorial – Transform Your Design from Pencil to Vector
CASE STUDY:
A Craft Brew Collaboration Where Brewery And Branding Become Magic