One of the first tasks we perform when we sign on a new client, whether it's for a global brand strategy or a new inbound marketing campaign, is a content audit. Our automated content audit is a quantitative assessment of all the webpages on a domain and gives you visibility into the content that's driving results for your business and which pages might be holding you back.
An Automated Website Content Audit Can Help You:
Determine relevant content topics for your audience
Eliminate irrelevant content that does not reflect your business
Locate content gaps in your content marketing funnel
Discover pages that can be consolidated
Identify underperforming, low-value pages
Access the content audit template here and check out the video below as Trey Evans, our Growth Marketing Manager, walks through how you can use it to identify low-value pages on your site based by utilizing Google Analytics and backlink data and the next steps to take moving forward.
Related Resource:
Keyword Research Template & Step-By-Step User Guide
The Goods: Our Go-to Content Audit Tools
How to Perform a Content Audit
Take inventory of your content with a full site crawl
Gain insights into page performance by integrating Google Analytics data
Measure your backlink profile by importing all backlinks from SEMRush
Generate actionable next steps based off of performance thresholds
Identify poor performing pages and find opportunities to improve, remove, or consolidate content
Repeat every 3-6 months
"Every quarter?!" you might ask.
Yes. This is a critical step in understanding how all of your content is working for your brand. Fortunately, with our template, the time-consuming tasks are automated so you can spend more time focusing on creating and iterating.
Once you've downloaded the template, navigate to the "Getting Started" tab and make of copy of the spreadsheet. In cell B9 enter your homepage URL (without the trailing slash), and follow the steps below.
Hubspot Users
We now also offer a HubSpot Portal Audit
Step 1

– Take inventory of your content with a full site crawl

The first step in conducting a content audit is creating an inventory of all the content on your site. Screaming Frog is our preferred tool for crawling but you can also import a list of URLs via XML sitemap.

Using Screaming Frog, perform a crawl and export your Internal HTML. For this audit, we're only including Address, Status Code, Title, Meta Description, and H1 tags. Paste this into the 'Crawl' tab.

Step 2

– Gain insights into page performance by integrating Google Analytics data

We'll be using Google Analytics data to help us take an objective look at content quality by looking at organic visits per page, bounce rate, and conversion rate.

We like to use SuperMetrics because it's one less report we have to look up when conducting an audit but you can manually import this data from Google Analytics.

If you're using SuperMetrics, launch the Google Sheets add-on.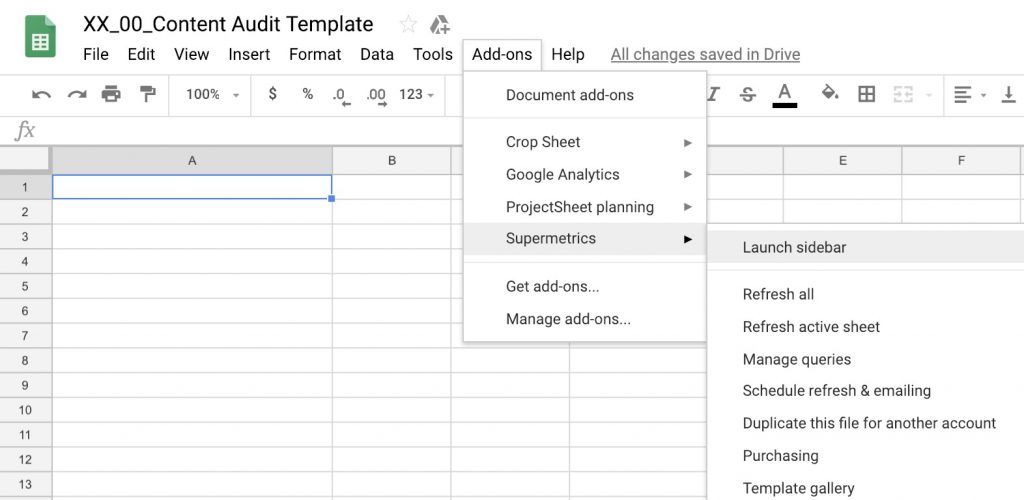 Navigate to cell A1 of the 'Analytics' tab:
Select the Data source, View, and date range
Select your metrics
Split Rows by Page Path
Segment by Organic Traffic
Apply any necessary filters (e.g. filter out spam referrals)
Get Data to Table
At a minimum, we'll be looking at Sessions and Bounce rate but you can include Goal and e-commerce conversion rates as well.
If you don't have Supermetrics, you can generate a report within Google Analytics.
Login to your Google Analytics account
Set a date range
Acquisition > Overview > Organic Search
Select Landing Page as your Primary Dimension
Export a CSV
Import only the Landing Page, Sessions, Bounce Rate, and Conversion Rate
Step 3

– Measure backlink profile by importing all backlinks from SEMRush

Backlinks are external links that are pointed towards your site. Google aggregates the volume, quality and relevance of links pointing to pages on your site, so the preservation of link equity is crucial. We look at backlink data along with analytics metrics as a way to determine if a page should be deleted or redirected to a similar piece of content.

You can export a CSV of your backlinks using SEMRush under Domain Analytics. Paste that into the Backlinks tab.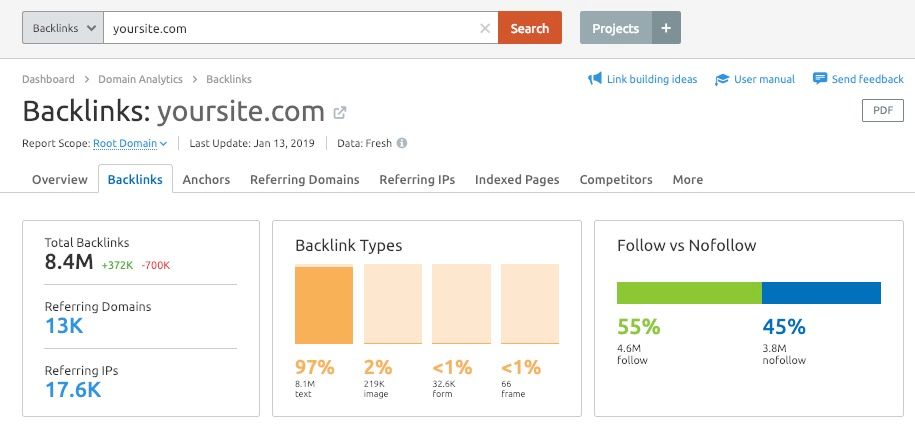 Step 4 – Generate actionable next steps based off of performance thresholds
Now that you've got a list of pages to review and analyze, you'll need to put some thresholds in place in order to help determine which content to keep as-is, which content needs improvement, and which content to redirect or delete entirely. These metrics are discretionary and will obviously rely on a number of different factors. Input your content thresholds on the "Getting Started" tab.
Organic Sessions
These are earned visits to your website from search engines. Organic traffic is typically the most valuable traffic for a business since it's essentially "free". While there are several SEO techniques that can help maximize your reach in the search results, great content that's relevant and useful to your audience is the main ingredient here.
Bounce Rate
A bounce is defined as a single-page session on your site, but to describe it more accurately, it's actually a single interaction visit to a website. While it's difficult to define a "good" bounce rate, you might be able to find a few resources for bounce rates by industry. If you have enabled benchmarking in Google Analytics, you might already have this information available to you.
Conversions
In Analytics, a conversion is the completion of an activity on your site. Conversions can range from a completed form submission or a transaction for e-commerce sites.
Step 5

– Identify poor performing pages and find opportunities to improve, remove, or consolidate

Although this is an automated content audit, there is still some manual action required on any pages marked for review to help identify pages that:
Provide no value to your target audience
Are no longer relevant, up to date or correct
No longer exemplify your messaging, brand and marketing
In column G of the "Next Steps" tab, you'll see that each URL has a drop down for contributors to suggest manual action. If you're conducting a content audit for a client, this is a great opportunity to get stakeholders involved to help with the decision-making, especially if you're dealing with a site with tens of thousands of pages.
Related Reading:
Content Marketing Workflow – An Agile Approach for Consistent Results
How Often Should I Run a Content Audit?
It really depends on your volume and quality of content, but we recommend running an audit every 3 – 6 months, or at a minimum, on a yearly basis. Don't fret though, the process we mapped out automates much of the work for you! #Winning
Bonus! Content Mapping – Align Content With Your Buyer Journeys
Now that you have a granular understanding of how every page is performing – assign each page to a particular buyer persona, and identify which stage of the funnel each particular page is suited for. This will help you identify gaps in your existing content so that you can prioritize your upcoming editorial efforts.
To take it a step further, you can optimize your top-performing pages by conducting conversion rate optimization or implementing a chatbot strategy to help engage users when they're ready.
In Closing…
Yes, content audits are a critical first step in any new marketing initiative, they will help point out gaps, and areas of opportunity, but what you do with that information is up to you. It all comes down to execution.
If you found that your content needs improving (and let's be honest, we can all be better writers), our copy department's Three Simple Copywriting Tips to Enhance Your Content Today is a great place to start.
Access the automated Content Audit template →