It's Gooding
Gooding
It's Good. It's Pudding. It's Gooding.
---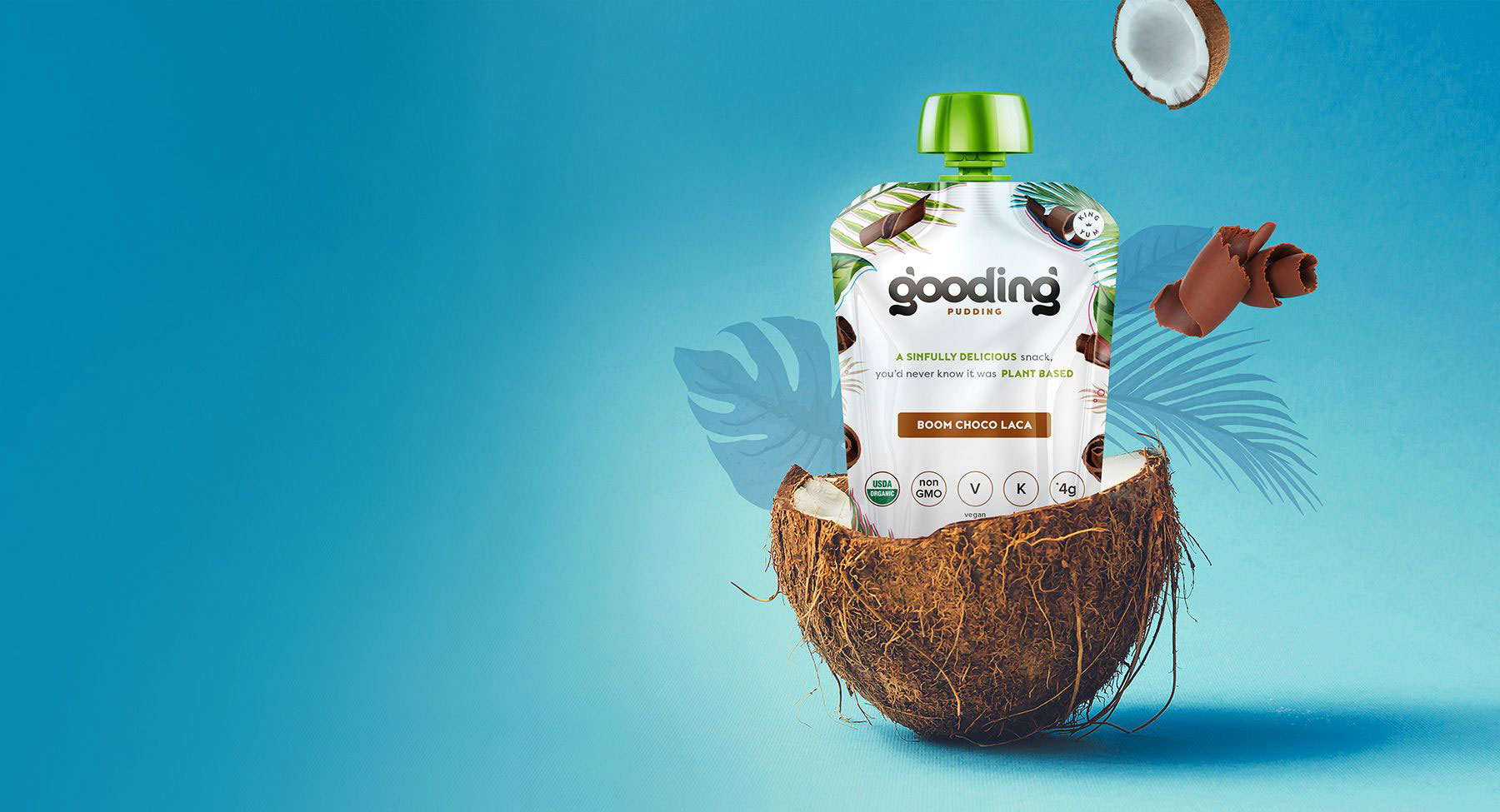 How This Tasty Plant-Based Snack Revitalized A Favorite Childhood Treat
Gooding is a squeezable, plant-based pudding brand created for conscious appetites. It's great-tasting, keto-friendly and vegan, and comes in spoon-free packaging that conserves water and plastic.

In 2017, the natural foods manufacturer came to Magnetic for help carving its niche within a category so tepid, it had grown skin. What we did next turned into a tasty adventure.

In this story you'll see how we strategically named and positioned the Gooding brand for the young at heart, how we developed a snarky new voice and creative to give the brand a playful personality, and how we poised their digital strategy to challenge in a quickly-growing healthy snack segment.
Brand Audience & Strategy
Identifying An Audience In The Healthy "Good For You" Snack Category
There are 75.8 million #Vegan posts on Instagram right now. And according to Plant Based News, over three million people in the UK alone made veganism their 2019 resolution. Compare this to the ever-present love humanity has for sweets, and it was obvious Gooding had a place in the snack world. The trick would be finding the right audience to connect with.
Many healthy indulgent snack brands already exist, such as Halo Top, Annie's, SO Delicious Ice Cream, Snack Pack Naturals, and so on, but no one is really dominating the space. Yet. Our research revealed that health is an increasingly important factor amongst many people. Most of us enjoy sweet and indulgent snack foods, but often feel guilty eating it. There were 3 main audiences we positioned the brand to speak to:
Health And Fitness Enthusiasts
Millennial Influencers
The Modern Health Conscious Parents
What's In A Name?
Yes, spoiler, the product ended up with the name Gooding, but the process wasn't that simple. Or was it? The product was good-tasting (delicious actually). The product was good for you. And, it was pudding. Boom. Named. Run some paint down its forehead and hold it up like Simba.
While the name for its pudding product came together quickly, Gooding's parent company still needed an identity within the broader healthy snacks category. The company's leaders weren't just determined to revitalize a stale pudding segment. Their long-term vision is to reign over the entire healthy snacks category. So we set out to create a name befitting of royalty.
It started with plenty of duds like Lid Lickers, Snackie Wilcox, and the Lactic Plant (snacks squeezed straight from plant nipples). After toiling on it for a few days, we landed on a name that mixes the oddball spirit of the brand with the entrepreneurial spirit of its leaders.
Creating Gooding's Design Aesthetics
With a strong understanding of who Gooding is, MAG's designers dug in. We designed packaging and a logo for Gooding using light colors and plenty of white space.
Departing from the frenetic imagery of sugar-heavy kid's brands, we chose natural, soft colors to help packaging stand out on grocery shelves. While a large font kept the product feel simple, natural, and welcoming.
Snark as a Main Ingredient
Attitude is a huge part of Gooding's brand. We couldn't alienate anyone by getting too snippy, but Gooding copy could never be boring. MAG's copywriters had to balance a silly sense of humor with a wholesome heart, and apply that voice on its website, packaging, andsocial posts.
Building a Website as Clean as its Products
Balancing product education with a bouncy, carefree tone, Gooding's website was designed to enlighten and entertain. From FAQs to flavor pages, we mixed in a variety of fun design elements like floating coconuts and bubbles.
Though a future update will include ecommerce functionality, we helped Gooding get to minimum viable product by including a tool that shows consumers where to find its flavors in local stores.
To build a following and develop a CRM base, we built in social and email CTAs that help visitors keep in touch. You can even submit a question to have answered on the site.
Getting Social
In January of 2015, Forbes wrote: "62% of millennials say that if a brand engages with them on social networks, they are more likely to become a loyal customer. They expect brands to not only be on social networks, but to engage them."
To appeal to Gooding's health-conscious audiences, it was imperative that the brand cultivate influence on social media. Because of its sleek packaging and quirky personality, Instagram would prove to be an important platform.