eMoyo
Medical Device Branding & Marketing
From Benchmarking to Breaking the Mold in Modern Healthcare Technology
---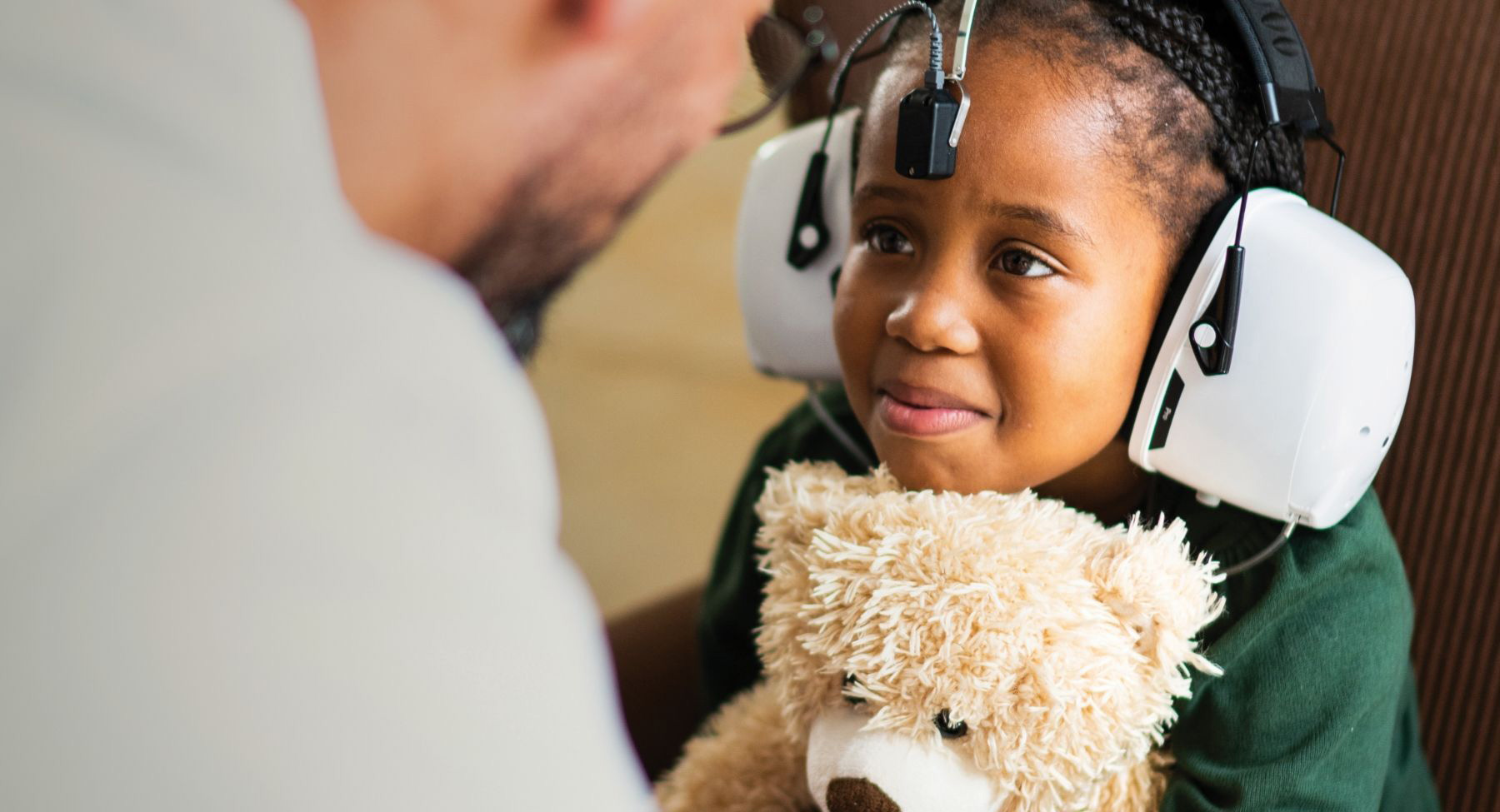 Well Beyond Innovation
Branding Telemedicine Enabled Med-Tech Solutions For Anyone, Anywhere
As humans, one of our deepest intrinsic needs is a sense of belonging.

Unfortunately, hearing loss, the most common global disabling condition, deprives millions of individuals of this essential assurance. As stated by the World Health Organization in 2021, by 2050 nearly 2.5 billion people are projected to have suffered some degree of hearing loss.
What's more, a 2018 WHO global estimate has shown that, at the time, 460 million people worldwide (an approximate 5% of the global population) were living with disabling hearing loss. Of these 460 million individuals, about 7% were children.
Tragically, late-diagnosed or undiagnosed childhood hearing loss holds devastating consequences, not only for the development of language skills, but also for social and emotional development, relationships, mental health educational achievement and opportunities and, later on in life, a person's economic contribution to society.
Tasked with eMoyo's rebranding, as Magnetic we had as our main objective the reintroduction of eMoyo as a brand passionately committed to bringing high-quality healthcare to people who would otherwise not have access to such services.
Our medical device branding goal for eMoyo was to demonstrate creatively how access to high-quality healthcare (in the form of eMoyo's location-independent, portable med-tech solutions) can support hearing healthcare professionals, occupational health officers, philanthropists and more to work faster, smarter and more cost efficiently, while extending patient reach and enhancing patient care.
Most crucially, in all our creative work, our objective was to illustrate how users can employ eMoyo's revolutionary, state-of-the-art medical device technology to access more patients and diagnose and treat hearing loss earlier, supporting them to reach their full potential and truly thrive, regardless of their geographical location or economic status.
BRINGING THE BRAND UP-TO-DATE
eMoyo – Not Your Average Medical Technology Brand
Based in Johannesburg, eMoyo is a proudly South African team of scientists, clinicians, engineers and designers. As a brand, in 2021 eMoyo was entering a new era. Their one-of-a-kind Kuduwave portable audiometer medical device was hand-picked by NASA to be used by astronauts for self-testing aboard the International Space Station. The rapidly expanding med-tech brand was planning the opening of their first US office in Wilmington, Delaware (this took place in March 2022).
When eMoyo approached us in 2021, their existing website and overall look-and-feel no longer reflected who they had become – an international brand deeply committed to facilitating access to high-quality healthcare to as many people as possible, regardless of location or socioeconomic status.
A Website & Digital Marketing Strategy To Match Who eMoyo Had Become
eMoyo required a website that would reflect what the company had grown into over more than a decade. As the company's main objective is enabling hearing healthcare workers and other users to work faster, smarter, simpler and more affordably, this had to come across clearly and succinctly in the new website's layout and creative look-and-feel, as well as what it offered in terms of user experience.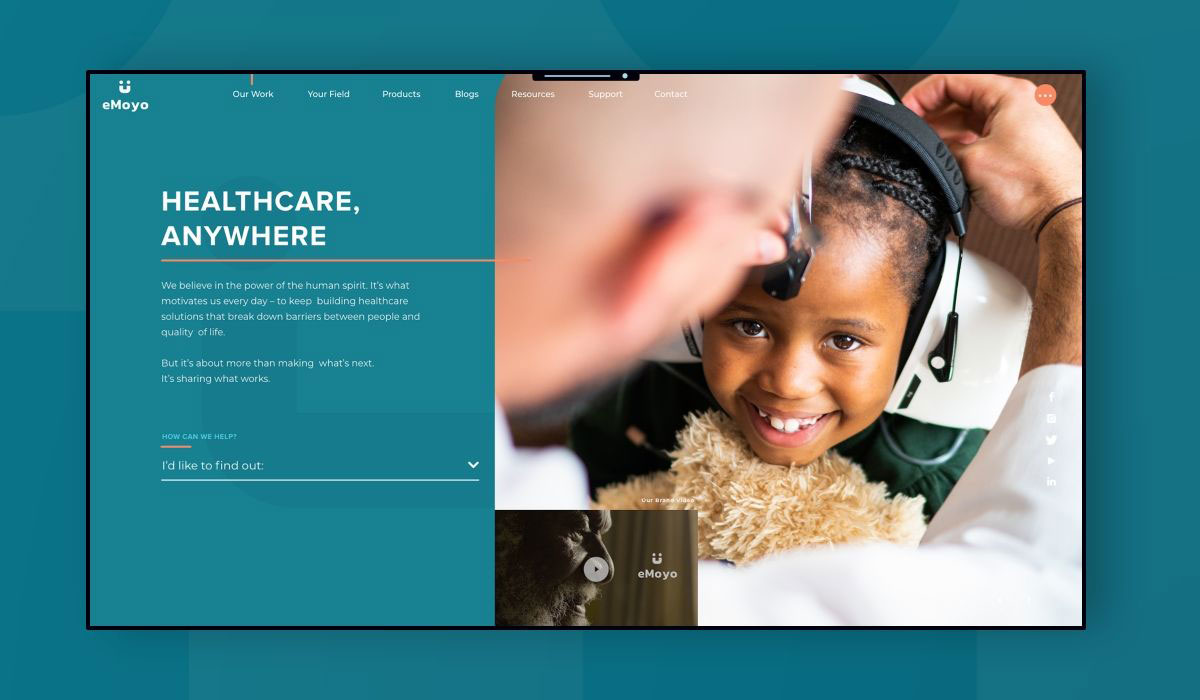 A full-width example image
Our Branding and Design Approach – Hope Through Technology
Through the branding process our team wanted to create both a brand mark and overall design aesthetic that spoke to what we believe is one of the core missions of eMoyo: bringing hope through technology, while acknowledging the value of human connection and honoring the inherent dignity we all possess as humans.

While planning eMoyo's new visual identity, we wanted to incorporate as many aspects and interpretations of what makes this brand unique:
People-centric and Human Connection – eMoyo wants to advance the health of the human spirit through its product and service offering, as well as their passion and dedication to their cause.
Access to Innovative Medical Technology – eMoyo is dedicated to enabling healthcare professionals worldwide to better serve humanity, dissolving barriers to quality healthcare by making its leading-edge med-tech products as affordable and accessible to as many people as possible – both users and patients.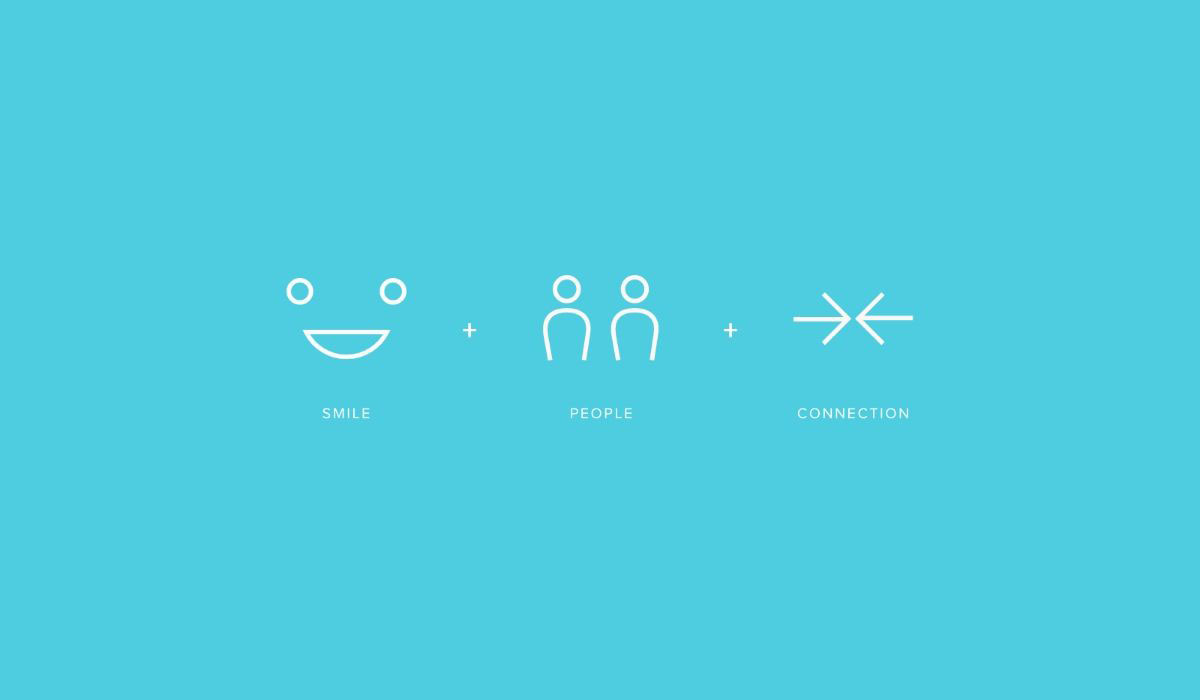 brand mark rational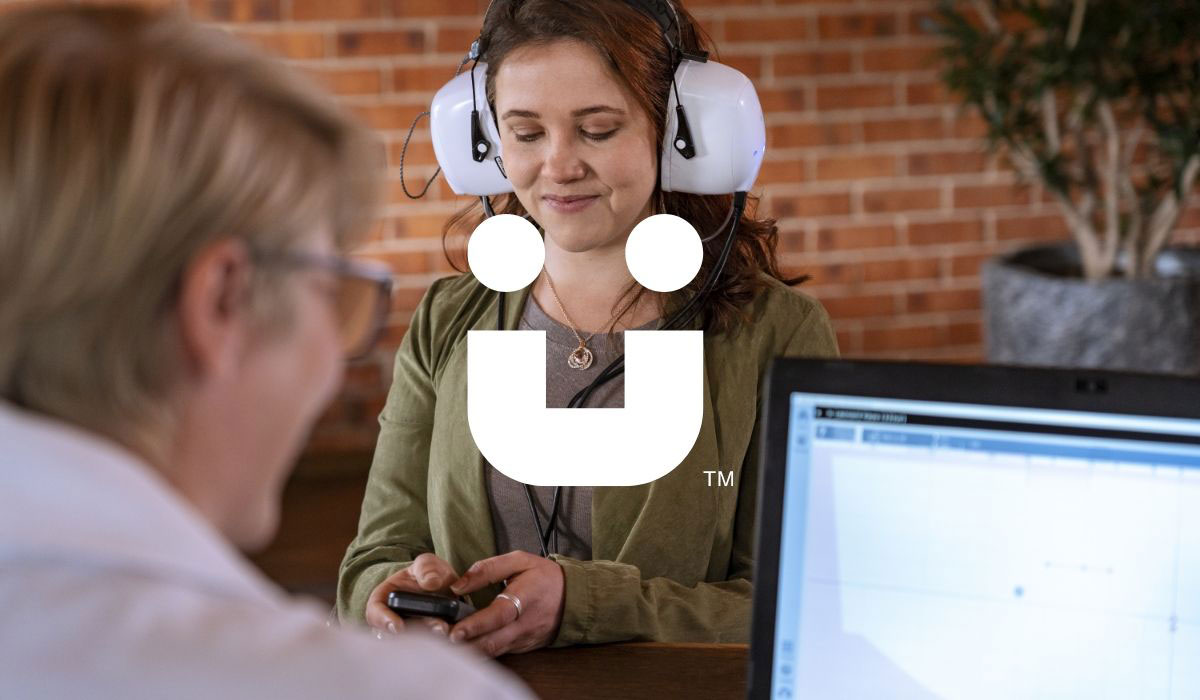 BRAND MARK
A Modernised, Vibrant & Approachable Brand with Humanity At Its Core
When planning eMoyo's rebranding and, specifically the brand's creative look-and-feel, we aimed to not only modernise the brand, but to also position it as vibrant, approachable, and imaginative, creating an organic brand identity that is as accessible, adaptable and innovative as the brand itself.

We wanted to steer clear of common interpretations of what branding in healthcare "should look like" – cold, clinical and unapproachable. Instead, we opted for warmer colours that evoke emotion to engender trust and confidence in the brand.

From a creative point of view, all elements and considerations (including our choice of images, brand tonality, colour palette and logo) come together to put humanity at the fore.

For the website design, we used plenty of white space in our layout, a nod to the brand's clinical nature. Our choice of oranges and blues was based on these colours being proven to be soothing to the human eye, invoking a sense of trust, calm and stability. Fonts were selected for their readability, while human-centred, caught-in-the-moment imagery conveys trust, warmth, and authenticity.

The decision was made to place eMoyo's flagship product, the iconic Kuduwave portable audiometer, central to the brand's visual identity. We achieved this by referencing the Kuduwave headset in eMoyo's brand mark (which forms part of its logo).
Also used as a design device throughout the website, eMoyo's brand mark is sometimes static, and at other times animated. Furthermore, we thought it important to communicate eMoyo's optimistic, approachable and caring brand personality across all creative elements, bringing to life the slogan "the future of healthcare is human."
This was achieved by visually referencing a smiling "happy face" that winks playfully when animated, supporting the brand's payoff line: eMoyo. Well Beyond Innovation.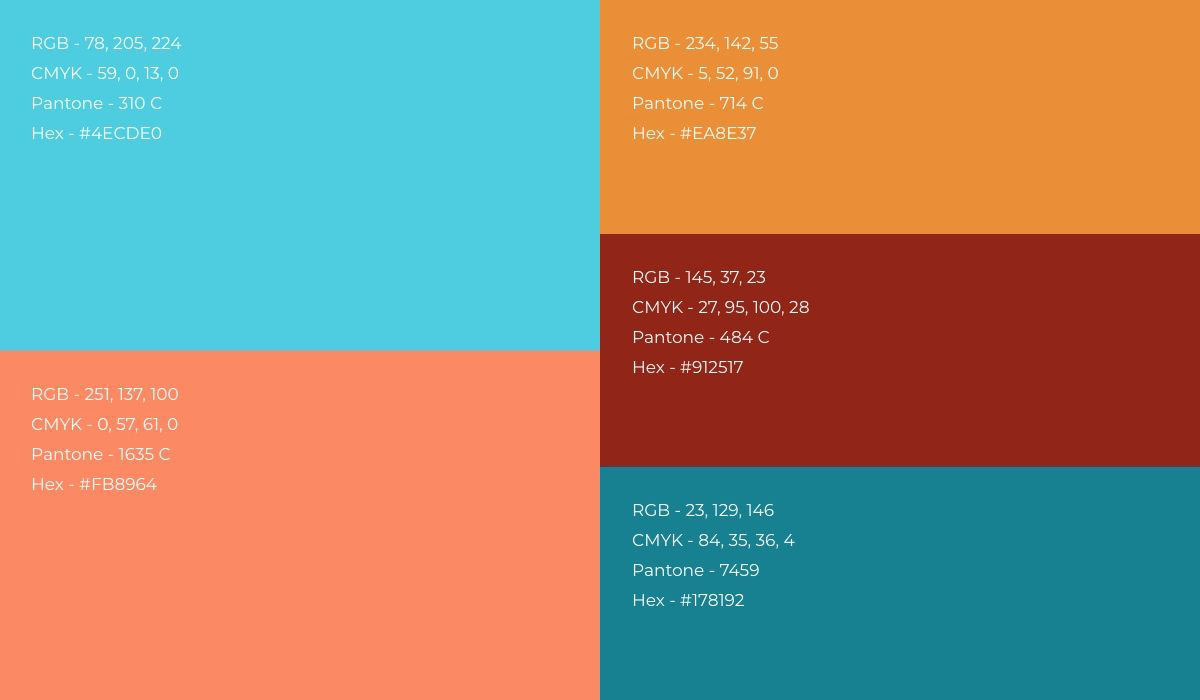 BRAND COLOR PALETTE
The Website – Simple, Fast, Effective
Enhancing the user experience by creating a website that was simple to navigate and effective in converting visits to sales was one of our most important objectives.
eMoyo's new website is supported by a comprehensive digital communication strategy, one that includes a powerful content strategy that targets specific buyer personas in the fields of hearing healthcare, philanthropy and occupational health. eMoyo's digital communication strategy also encompassed strategic, high-impact roll-out across various social media channels, and a highly targeted paid-media campaign, designed to convert site visits and online searches into sales.
eMoyo's Content Strategy – Telling Stories, Building Trust & Growing Awareness
The medical device industry comprises a rich and interesting mix of companies that combine world-class engineering and product design with cutting-edge innovation.
Developing products that improve the lives of millions of people across the globe, it is an industry that, more than most, has compelling stories to tell.
Most med-tech companies have barely started this journey. They have relied on a single, rep-based go-to-market strategy for so long, and there was no urgency to try something else.
And then Covid hit.
Industry players had to quickly adapt to a changing economic landscape in which face-to-face sales interactions were disrupted and access to healthcare professionals and administrators became restricted.
For eMoyo's initial content strategy, our goal was to find innovative, effective ways to tell their story, build awareness around their revolutionary medical devices, and build trust (particularly crucial in such a regulated industry). We also aimed to educate our audience on how portable medical devices such as eMoyo's can significantly help ease the challenges (for both healthcare professionals and patients) posed due to Covid.
Some of our key challenges included: how to humanize complex technology, how to entrench eMoyo's new brand positioning, and how to reach B2B decision makers.
Our approach included the following:
Clearly defined buyer personas with pain points (and solutions).
An outline of our main content pillars as a guideline to how and where we should be dedicating our focus.
Creating a detailed content plan including blog clusters (lead-generating pillar page plus supporting blogs), social media calendars, monthly newsletters, and quarterly campaigns.
Reskinning social media platforms and developing a strategy for follower growth and higher engagement (eg. sharing more video content and testimonials).
Performing in-depth keyword and topic research to ensure our blog strategy was effective.
Interviewing the company founder and other industry experts to gather valuable insights and personal stories for blogs and quotes that can be shared across social media.
Interviewing healthcare professionals who have used eMoyo's Kuduwave to gather valuable testimonial content and personal stories for blogs and social media posts.
Creating video and testimonial-based campaigns to educate buyer personas on the benefits of portable audiometry. We included strong CTAs to book a free demo as a lead-generation tool.
Kuduwave Portable Audiometer: Increasing Reach, Enhancing Care

Kuduwave Pro-TMP & Kuduwave Pro Portable Diagnostic Audiometers

Kuduwave OH & Kuduwave Prime Portable Screening Audiometers

Portable Med Tech - Taking Healthcare Further
Post-Launch Learnings: Further Audience Segmentation & Tailored Messaging
After the first six months, we had gathered sufficient data and insights to allow us to segment our audiences further and tailor our messaging to each phase of the customer journey, allowing us to gather quality leads and nurture them into converting customers.

We then refined and tweaked our strategy to align with the platforms and content pieces that had proven to deliver engagement.
As the client expanded into the US and India, we also expanded our strategy to include these additional markets.
Social Media – Connecting Products to Human Experience
Our social media strategy was to showcase the products (particularly the Kuduwave portable audiometer) while providing healthcare professionals with relevant information and education about the med-tech landscape, the hearing healthcare industry and portable audiometry as a whole.

We chose to make use of human-centric imagery of patients, audiologists and medical technology professionals, connecting eMoyo's flagship product, the Kuduwave portable audiometer, to human application.

Engaging on social media, we make use of a friendly-yet-professional tone, with a focus on promoting thought leadership by utilising personalised professional profiles.

Through thorough research and prior learnings, we made sure to select the most relevant and effective social media communication channels, ensuring that our choice of language is both social, yet informative while targeted at relevant audiences.
Our Social Media Learnings
Post-launch learning and insights made it clear that we needed to focus on creating both long- and short-form video content to educate our target market.

We realised that we needed to employ real-life testimonials from other hearing healthcare practitioners and early adopters of eMoyo's med-tech products. Doing so authentically informs other hearing healthcare professionals about the latest advances in portable audiology and its many benefits, all the while establishing that all-important human connection between eMoyo's med-tech product offering and hearing healthcare professionals.

A video of eMoyo founder and CEO, Dr Dirk Koekemoer announcing the rebranding and personally thanking early adopters of eMoyo's technology proved very effective in fostering a personal connection between the brand and its followers on social media.

For some social media platforms, storytelling and first-person user accounts were ideal, while for other platforms, such as LinkedIn, more factual, educational infographics were required.
The Results - Social Media
+31%

Facebook Followers increase for the months of January - March 2022

+29%

Increase in Instagram followers for the months of January - March 2022

+56%

Increase in LinkedIn Followers for the months of January - March 2022

+47%

Increase in Youtube Followers for the months of January - March 2022
Website & Email Marketing Results: January - March 2022
Site Health: 11% increase over three months
Page Views: 85.86% increase over three months
Users: 118.73% increase over three months
Bounce Rate: 5% improvement over three months
Google Position Tracking: 13% increase in three months
Backlinks: 2 910% increase in three months
Email Marketing: 20% Click-Through Rate On Emails
eMoyo Rebranding Creative: Awards & Recognition
Magnetic Creative was honoured with several international awards for eMoyo's rebranding, including for their website, brand video and brand identity. These include:
MUSE CREATIVE AWARDS
Platinum Award: eMoyo Brand Video "Instead, We Feel" - Branding
Platinum Award: eMoyo Brand Video "Instead, We Feel" - Corporate
Platinum Award: eMoyo Website
Gold Award: eMoyo Brand Identity
NYX AWARDS
Gold Award: eMoyo Website
IDA DESIGN AWARDS
Honorable Mention 1: eMoyo Rebranding Design
Honorable Mention 2: eMoyo Rebranding Design
eMoyo Sales Results for 2022 To Date
eMoyo's sales target has been set at 55 Kuduwave portable audiometers per month (660 per year). eMoyo had exceeded their 2022 sales target by April 2022, with total Kuduwave sales standing at 664.
eMoyo: A Family With Shared Goals, Set On Revolutionising the Traditional Healthcare Model
eMoyo's core values are Collaboration, Integrity and Imagination.
Collaboration because eMoyo is more than just a team of co-workers, they are a family with shared goals. And working together for the common good makes realising huge and ambitious goals just that much easier.
Integrity, because eMoyans do the right thing, and do things right, even when no one is watching.
And, lastly, Imagination, which means that in all aspects of their business, eMoyo brings their humanity into their work.
A world where access to quality, affordable healthcare is a reality for all.
eMoyo's vision is a world where access to quality, affordable healthcare is a reality for everyone, regardless of their location or socio-economic status.
With a Kuduwave portable audiometer aboard the ISS, a newly opened US office, and a solid partnership with international, award-winning branding agency Magnetic Creative, we believe that this proudly South African brand is well positioned to make this vision a reality.