Alibi
Music Library Branding & Development
Our Process for Taking One of the Largest Music Libraries Available to New Heights
---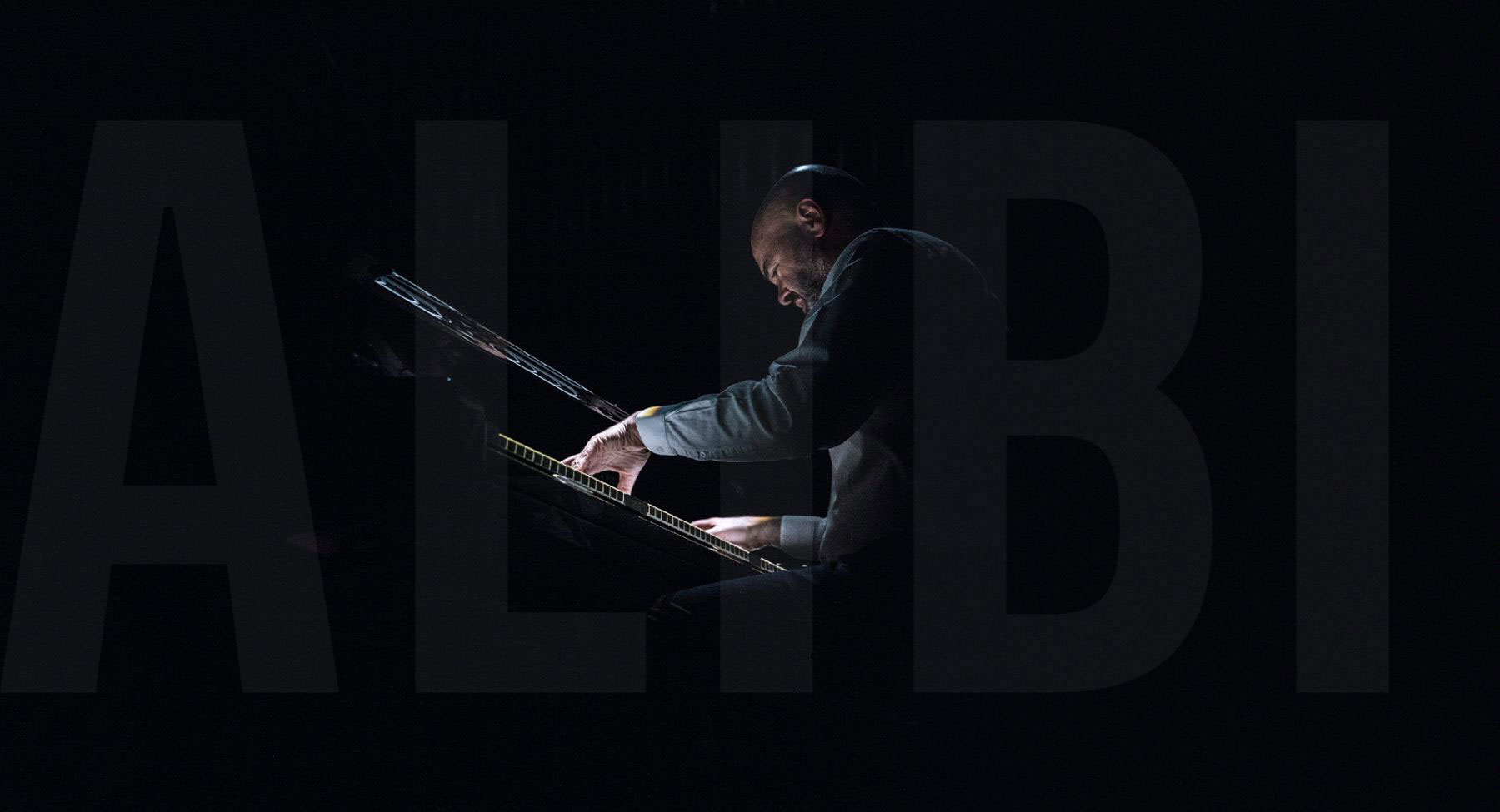 Setting up a Brand's Web Presence for Success you can Hear
Turning a Production Music Library Up to 11
By the time ALIBI Music and Magnetic synced up, it already had solid industry recognition, glowing customer testimonials, a star-studded user base, and oh yeah, more than 250,000 tracks worth of Hollywood-ready production music & sound effects (SFX). Despite all of this, the up-and-coming audio library still needed a shot in the arm. That's where we came in.
For all ALIBI had going for it, there was one glaring issue: its user experience. ALIBI could have the best production music in the world, but if its customers couldn't find the tracks they were looking for – and fast – the show, as they say, could not go on. So in 2019, Magnetic struck an engagement with ALIBI Music with a few goals in mind:
Develop a foundational brand DNA that would lay out what makes ALIBI Music an indispensable asset to storytellers everywhere.
Completely redesign and redevelop an eCommerce site that put ALIBI's diverse music library, professional search tools, and direct licensing functionality in the spotlight.
Define and engage ALIBI's customer personas through organic and paid social media, email blasts, and good old SEO.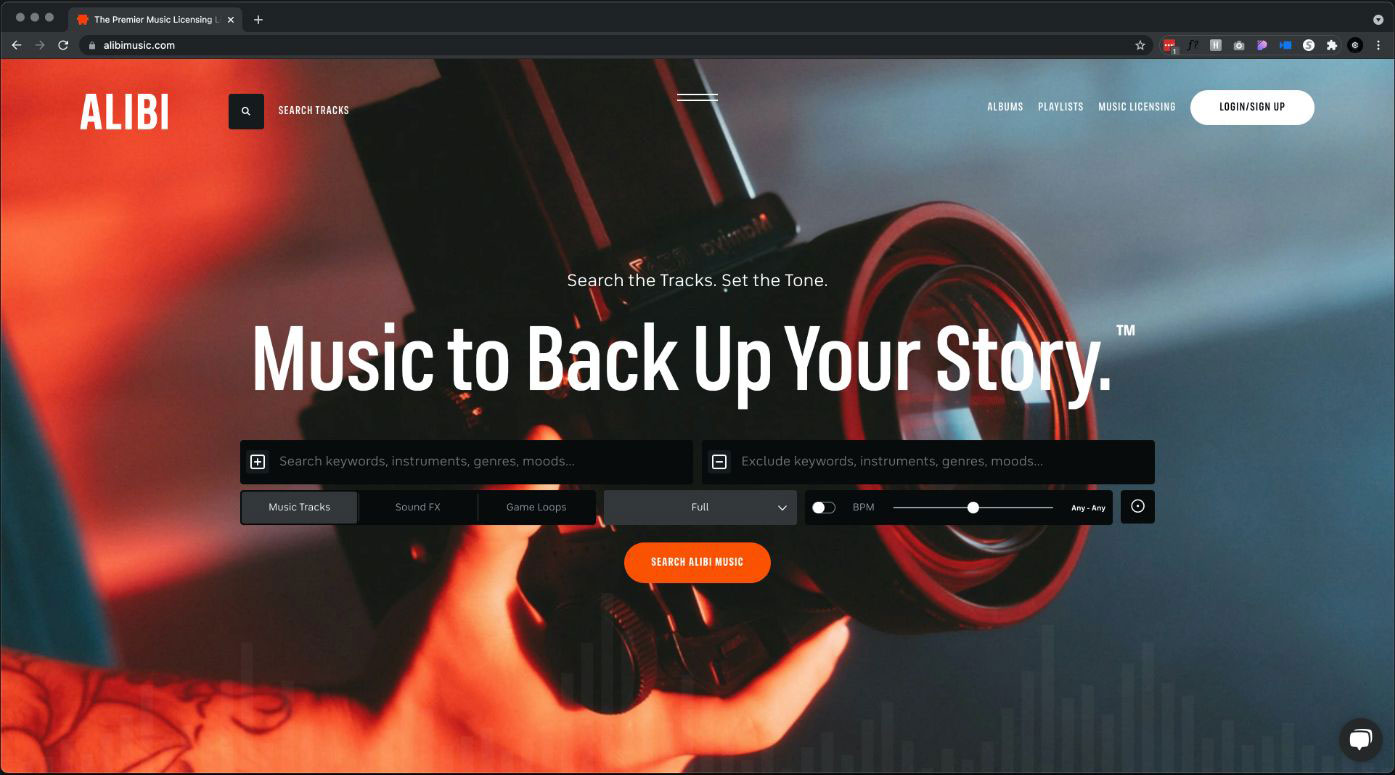 ALIBIMUSIC.COM
Vocalizing the Brand story
Developing A Brand Strategy That Makes ALIBI Sing
Upon looking at ALIBI's competitive landscape – along with the needs of filmmakers, trailer editors, music supervisors, and other storytellers, one industry truth rang loud and clear: finding the perfect track for a project can take forever.
If ALIBI was going to differentiate itself from its scattered competitors, we had to embody The Unsung Hero so that our users could become the hero of their own story.
Well Designed Web Experiences
Developing a Best-in-Class Music Library Search Engine and User Experience
The new AlibiMusic.com sought to make licensing music & SFX easy (if not enjoyable) for storytellers from all industries and backgrounds.
On one streamlined site, you can leverage a robust search engine that helps you accurately whittle down hundreds of thousands of tracks in a single click, then go on to actually license your winners for placement. But that's only scratching the surface of what ALIBI's new site offers.
Introducing the First-Ever ALIBI Music Subscription
Previously reserved for top studios, agencies, and trailer houses, Magnetic helped ALIBI roll out an affordable subscription service that would put Hollywood-quality music & SFX in the hands of YouTubers, Twitch streamers, podcasters, and other independent storytellers.


Looping in ALIBI Game Loops
The new AlibiMusic.com also features a library of over 1,000 high-quality game loops, which are specially formatted for video game developers. Magnetic helped ALIBI reach yet another new audience by educating indie game devs via the ALIBlog (its online content hub), and by establishing a presence at popular gaming conferences like GDC and E3.


You Get an ALIBI Music Extension! And You Get an ALIBI Music Extension! And You Get an ALIBI Music Extension!
If the new site wasn't enough, how about a free plug-in that brings all of AlibiMusic.com's search power and direct licensing functionality right within Premiere Pro? Sure, a free and functional Premiere Pro extension may sell itself, but we still put together a bang-up landing page that shows off the bells and whistles.


Winning Visibility with SEO
Similar to ALIBI's amazing music, what good is a beautiful new website if no one can find it? Magnetic's growth marketing and copy teams worked together to devise a keyword-focused content strategy that satisfies both soul and search engine.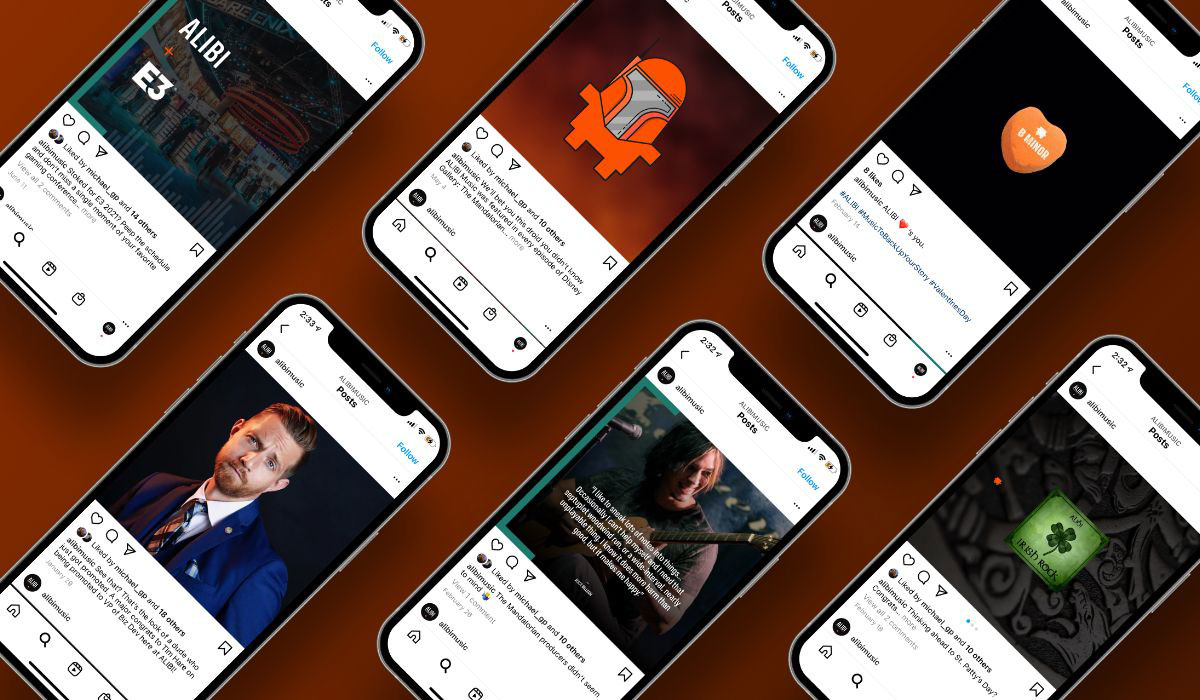 SCROLLING THROUGH SOCIAL
Stocking Our Social Feeds with All of the New Sounds
To keep in touch with fans and drive new traffic to AlibiMusic.com, Magnetic executes a monthly editorial calendar that includes organic and paid social media, monthly emails, ALIBlog posts, and more. As for content? We aren't just playing the hits.
New Album & Playlist Features
ALIBI releases 5-10 new albums every month. We draw listeners in by teasing new cover art with :15 track samples. The hookier the better.


Featured Placements
We further established credibility on social by sharing popular trailers, shows, and commercials featuring ALIBI Music. Bonus points if Kathryn Hahn is in the thumbnail.


Artist & Employee Spotlights
Another core piece of our social strategy involves interviews with ALIBI's amazing employees and artists. These types of posts invite followers to look behind the curtain and see what makes ALIBI, ALIBI.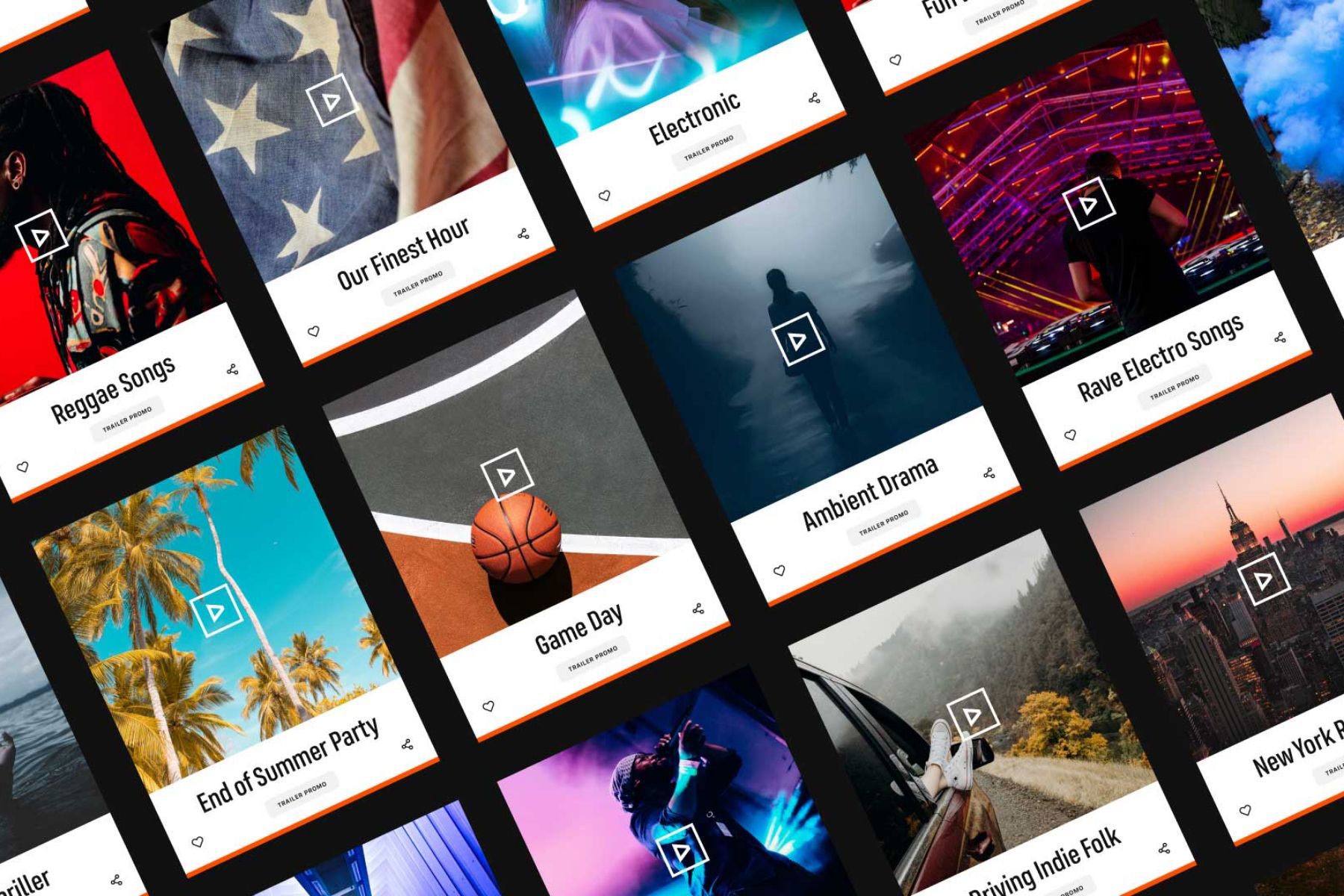 FIND WHAT MOVES YOU
ALIBI's Story is Just Beginning
Thanks to ALIBI and Magnetic's collective hard work, AlibiMusic.com has seen a 471.5% increase in organic site traffic in the last year alone. ALIBI Music Subscriptions are selling like a soon-to-be Platinum record to an untapped audience. And ALIBI the brand has laid all the necessary groundwork to dominate the production audio space. As for us? We can't wait for an encore.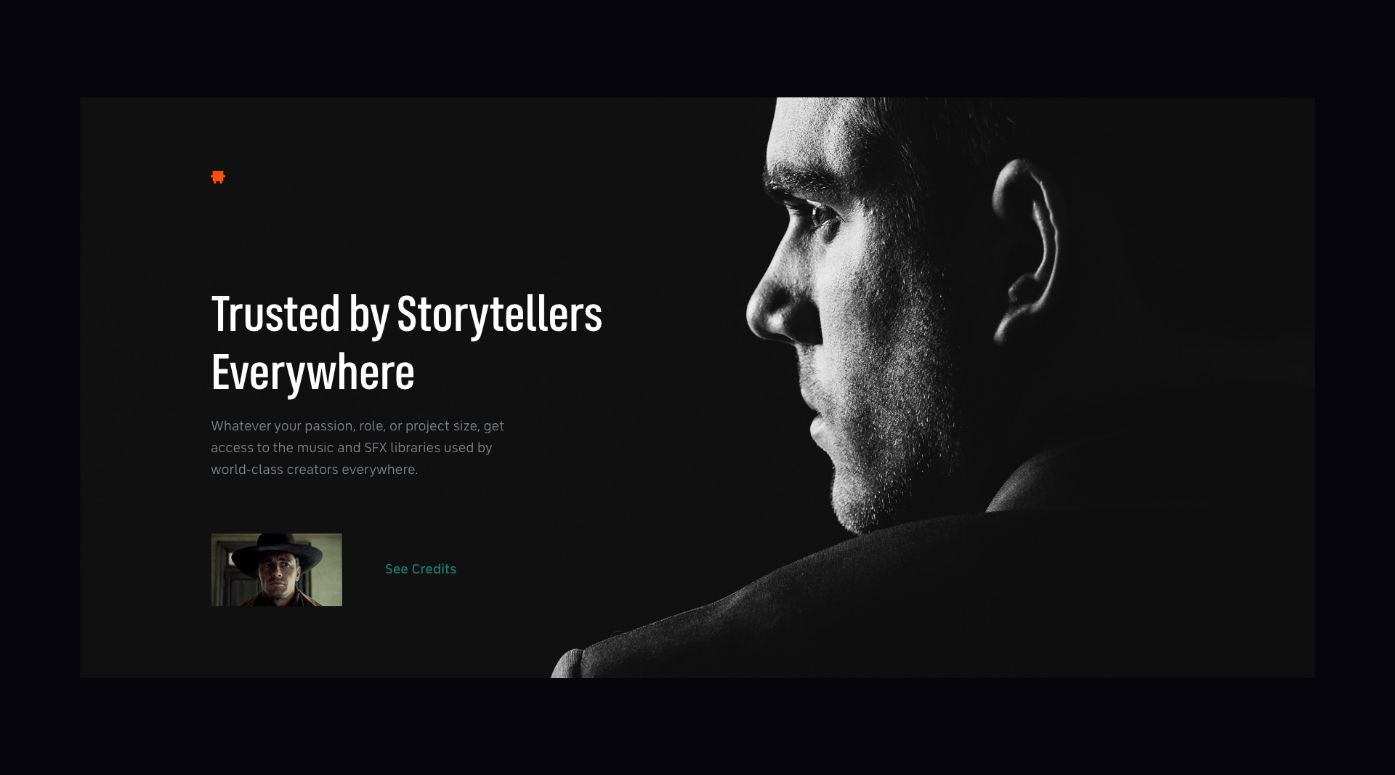 TRUSTED BY THE INDUSTRY